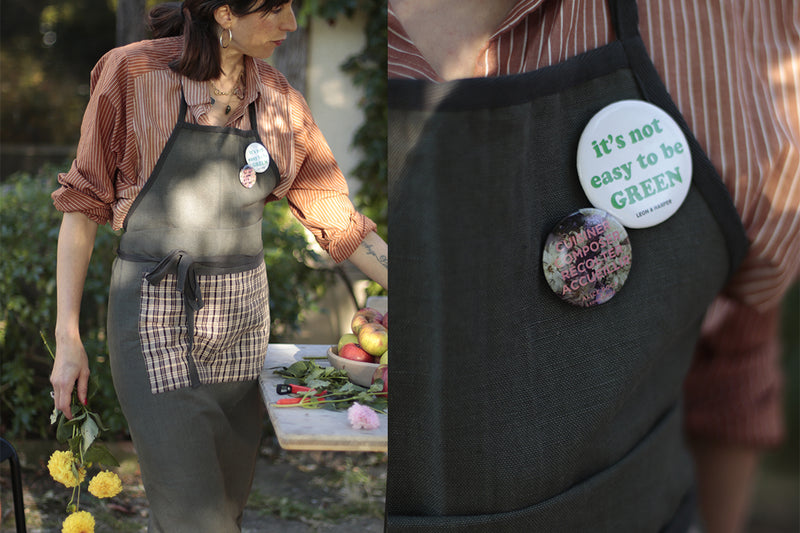 ALICE IN FOOD X LEON & HARPER
An apron for the kitchen or the garden, designed to celebrate Alice's first
recipe book "At my table". Made from organic cotton and linen it is
wrapped like a furoshiki. This limited edition is available in Leon & Harper
stores and in the e-shop from today.
A Parisian until recently, it is now in Normandy, close to nature and to the slow
rhythm of its seasons, between vegetable garden and fruit trees, where Alice Roca
cultivates her art of style – even in her kitchen. Here, she patiently applies herself tomaking her passion for the good, the beautiful and the bucolic flourish.In fact, we discover a woman who never stops moving forward and building. From her questionings and ambitions she creates projects at the heart of which is an awareness of the world, nature and eco-responsibility; a desire to commit and act, and also to communicate. Sowing and rooting, harvesting and reaping, sharing: a beautiful philosophy of life. There is a warmth, a generosity and a simplicity in Alice Roca that touched us. And also because at Leon & Harper we like to eat well: good, beautiful and organic, it didn't take much more to seduce us.
Discover the apron in our shops :
LEON & HARPER BEAUMARCHAIS, 95 BOULEVARD BEAUMARCHAIS, 75003
LEON & HARPER TEMPLE, 23 RUE DU TEMPLE, 75004 PARIS
LEON & HARPER BATIGNOLLES, 77 RUE LEGENDRE, 75017 PARIS
LEON & HARPER ABBESSES, 46 RUE DES ABBESSES, 75018 PARIS