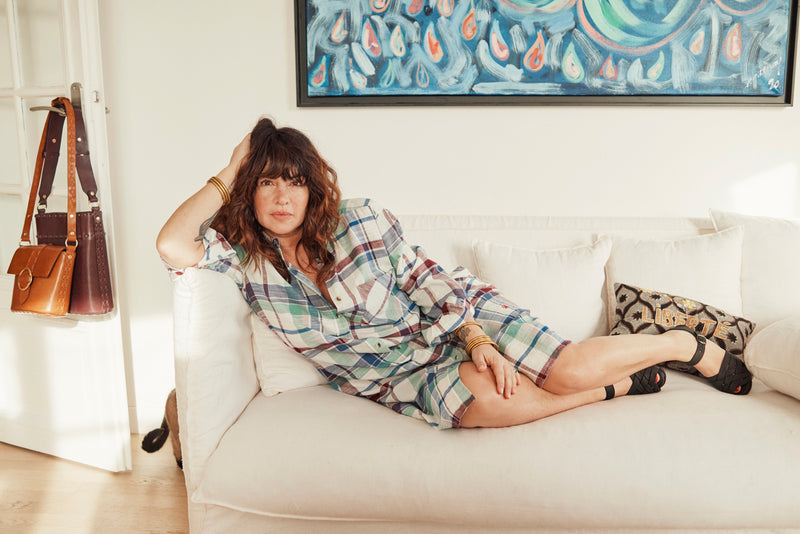 Leon & Harper met Elsa Wolinski,
a radiant woman. A generous and sensitive woman, free and fulfilled. A woman who comes across to others just as she is and just as she thinks.
"I am a warrior of the ordinary", she says. You can tell that she is committed, and you love her for it. A warrior seeking the right balance between her own imbalances and those of the world. Taking care of herself and taking care of others. As for her motto, Elsa Wolinski borrows it from Gisèle Halimi: "Fighting is a duty; reaching out to other women is a responsibility".
The bond between Elsa Wolinski and Leon & Harper is self-evident, and it is obviously no coincidence that this encounter came about at a time when Leon & Harper had resolved to go further along the path towards the kind of fashion that makes sense, world-conscious fabric that is connected to the women it is aimed at, fashion that is responsible and sincere, for free and genuine women.
These extraordinary warriors of the ordinary.
More than two years have passed since Leon and Harper embarked upon the Born Again path. It was a challenge and a promise: to dress women without stripping the planet.
Our spring-summer 2021 collection takes a further step forward on this path. A gloriously colourful collection that gives pride of place to natural materials: organic cotton in particular, linen too, and FSC viscose
But a collection that goes even further, which not only helps to preserve the environment but has resolved to celebrate femininity, to celebrate women and stand alongside them. It is the clothes themselves, the fluidity of the dresses for example, which is a celebration in its own right, but the t-shirts and sweatshirts display meaning too, words that evoke today's women, that portray them as who they are and what they are about.
A quintessential women's collection, and one that couldn't dream of a more perfect ambassador than Elsa Wolinski.