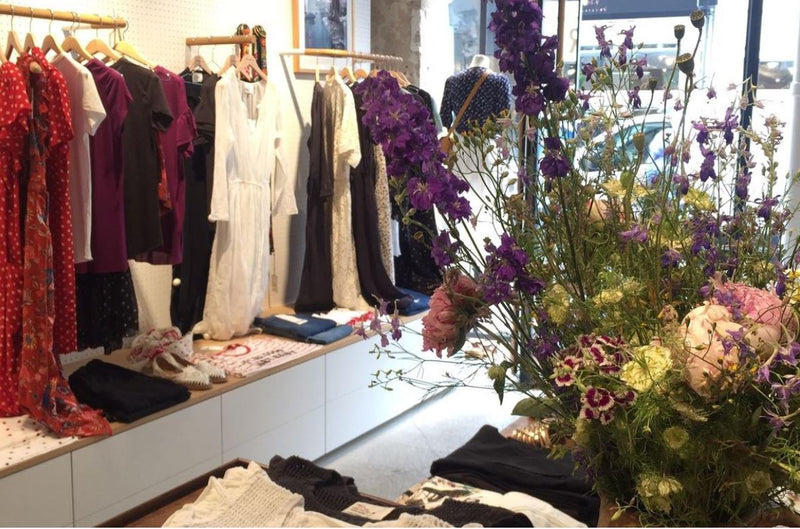 At the bottom Marais, at 23 rue du Temple is the Leon & Harper store. Already by far, we recognize the window with black frames specific to the brand's universe. Only for a few moments after strolling the doorstep, scented notes of amber fill our senses, our steps span a hunched carpet and our gaze arises on a jaw yellow wall. An emblematic sensory experience of Leon & Harper that we find in all our shops.
On the holders rest solar yellow blouses, pieces with flower prints and t-shirts with motivating mantras. A perfect luminous summer collection when the ardent sun rays appear.
In the shop we find Sarah, manager of the Temple store, we present it to you through a few questions.
Your favorite part of the collection? It's the Ralph dress (Editor's note in store only), I love it, the beige color like the sky color. This is the big dilemma I cannot decide between the two. I imagine carrying it at a wedding on the beach in Cuba accompanied by Javier Bardem (laughs).
The dream trip?Cuba, I always wanted to go, old cars and old houses that is what attracts me. But you have to go there before it changes too much!
Your neighborhood address? The Stolly'Stone bar is a small neighborhood pub, it spends sounds from the 50s and 60s, I love it.
Your cult French film?Pierrot Le Fou, by Jean-Luc Godard and the love songs by Christophe Honoré, I like the wacky side of these films.
The work of art that would be good in your living room? A hokusai print, that with the best known wave or "rivers women", where we see women from back. I already have a few but a real hokusai it could be nice.
What do you dream of hunting? A beautiful vinyl platinum, a "oha beautiful era" to be exact.
The design room you want madly? It's a big white armchair the "flesh". He appeared for the first time in March Attack. It is very beautiful but very imposing, I don't really know if it would fit in my apartment.
The song that makes you dance? I don't assume it too much (laughs) it's a bit the Guilty Pleasure It's Psycho Killer from The Talking Head.


Thank you Sarah for answering our questions!

Go visit her, she will welcome you like at home.