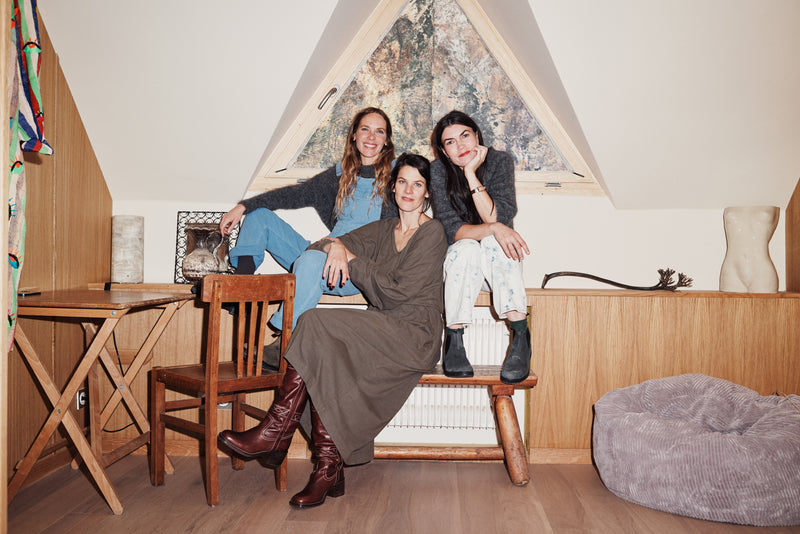 A DAY WITH COUNTRYFICATION
There are three of them. Three independent and accomplished, free and creative women. They are called Charlotte Huguet, Gesa Hansen and Estelle Marandon. Three ex-Parisians freshly installed in the countryside, a few kilometers from each other, on the edge of the Fontainebleau forest, in the heart of the Gatinais natural park.
Neighbors therefore, they share a common adventure, this rich experience of a migration, when it comes to reinventing a lifestyle.
They quickly became friends and now form a small band that we loved to meet. From them three united emerges a powerful spirit of sorority which has particularly struck and seduced us. Together they draw a harmonious rurality which does not deny anything of the city woman that they were and liked to be, this bohemian woman who basically is the same in the city and in the fields, and which Leon & Harper likes to dress so much.
A brand new trio with a common project in gestation. BaptizedCountry, it is a question of exploring different forms of expression in order to talk about this booming phenomenon which leads city dwellers in search of an indefinablesomething else to leave the big city to come and settle in the countryside ... and Discover, once the anxieties have been overcome and the trials faced, that this something was simply themselves. With knowledge acquired in experience, Charlotte, Gesa and Estelle have already harnessed to the writing of a small treaty for a bohemian life in the countryside, a sort of Parisian survival guide exiled far from its natural environment - but of the Parisian too - which will humorously address the different facets, from theory to practice, of aCountry successful.